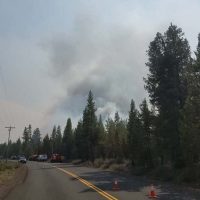 (FROM KTVZ)
La PINE, Ore. – (Update: Fire grows to 8 acres; Red Cross shelter being established)
An early-season brushfire broke out Wednesday afternoon north of La Pine, prompting evecuations in the Lazy River subdivision, road closures and the call-up of tworegional task forces to protect homes in the area.
Fire and emergency crews responded around 3 p.m. to the fire reported by several callers in the 53000 block of Bridge Drive, near Prairie View and Sepentine drives.
Deschutes County sheriff's Sgt. William Bailey said crews were on the scene, with road closures in place, and asked that people stay out of the area if at all possible.
"A Level 3 (Go Now!) Evacuation Notice due to a fire has been ordered for all residences on Loop Drive, Walker Road, Forest Road, Faun Court, and Prairie View Drive in the Lazy River Subdivision north of Burgess Road," an alert issued at 3:39 said.
"There is immediate and imminent danger and you should evacuate immediately. Leave immediately and as quickly as possible," the alert stated.
The fire, Incident 122, was initially estimated at about 3 acres but had grown to about 8 acres an hour later, according to Oregon Department of Forestry public information officer Christie Shaw.
Some groups of trees have been torching, Shaw said, as well as some flames or embers spotting from the main fire amid 20 mph wind gusts in the La Pine area. Two regional structural protection task forces were called up, she said.
Numerous Forest Service, ODF and La Pine Rural Fire District crews were en route or on the scene, with unified command established between ODF and the La Pine fire agency.
Resources include engines, hand crews and the Redmond Hot Shots, Shaw said. A retardant-dropping air tanker from the Redmond Air Base was to head to the scene but was on hold because the RDM airfield had been closed by a small-plane incident (reportedly a collapsed landing gear).
An American Red Cross emergency shelter was being established at the La Pine Community Center for those affected by the evacuations, Bailey said.