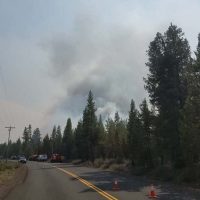 (*Update: Fire fully lined, road reopened; Level 3 evacuation lowered to Level 1*)
(FROM KATU ABC 2 News/Deschutes County Sheriff's Office)
LA PINE, Ore. – Evacuations were ordered north of La Pine on Wednesday as firefighters battled a brush fire, the Deschutes County Sheriff's Office said.
A Level 3 (go now) evacuation notice was issued for several properties near the 12-acre fire, dubbed the Bridge Drive Fire. That evacuation order has since been lowered to Level 1 (Be Ready).
According to Christie Shaw, with the Oregon Department of Forestry, crews contained the fire around 5:30 p.m. and are working to mop it up.
Officials said that one home has been destroyed and another has been damaged. ODF says it is seeing "group torching" of trees in the area.
An air tanker that was called in to help was delayed because another plane had an issue with landing at Roberts Field and closed the runway, Shaw said. In the end, it wasn't needed because crews contained the blaze.
Fire investigators are working to determine a cause for the fire, but it started on private land.