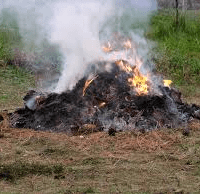 The City of Bend and the Deschutes Rural Fire Protection District #2 has continued the weekend's burn closure through today (Tuesday, May 14), and this action will be reviewed before burning is opened again.
We remain in a warm and dry weather pattern, which is expected to change this week, but burning is closed until the decision is made to reopen it. We remind people that before you burn, please call the Burn Information Line at 541-322-6335.
This site will tell you definitively whether burning is open or closed. Do not rely solely on other sources of information, always call the Burn Info line before you burn.