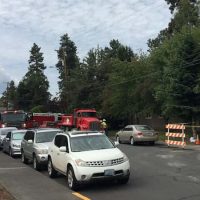 (FROM KTVZ)
BEND, Ore. – A natural gas leak in northwest Bend Wednesday morning prompted a closure of Northwest 12th Street between Newport and Milwaukee avenues until repairs are complete.
Bend fire and police closed the block after the leak was reported shortly after 10 a.m., reportedly due to a contractor hitting a low-pressure half-inch residential gas line.
Bend Fire Battalion Chief Dave Howe said the closure would be in effect until Cascade Natural Gas repairs the leak and authorizes reopening the road.
Motorists are urged to avoid the area until the situation is resolved.