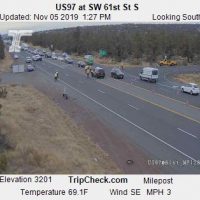 BEND, Ore. – A pair of injury crashes late Tuesday morning — one involving an ODOT Emergency Response truck — were causing traffic delays on U.S. Highway 97 between Bend and Redmond and state Highway 242 west of Sisters.
A multiple-vehicle crash just before noon closed both northbound lanes of Highway 97 at Southwest 61st Street and Deschutes Market Road. Oregon Department of Transportation Region 4 spokesman Peter Murphy said an ODOT Incident Response truck was involved in that crash and that driver was taken to the hospital for treatment. Further details were not immediately available.
ODOT said a detour was in place for northbound traffic, but southbound lanes also were congested and an extensive investigation was due at the scene.