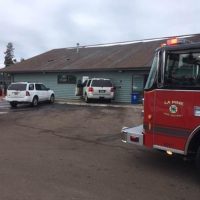 Thursday, December 5, 2019 at 12:42 pm.  La Pine firefighter/paramedics were dispatched to a motor vehicle crashed into an occupied building at 51649 Huntington Road.  Firefighters arrived to find a Lincoln Navigator SUV had driven into the south wall of the La Pine Post Office.
The driver self-extricated and was evaluated by La Pine Fire Medics and did not require transport. Although busy with the pre-holiday rush no occupants we also injured however many PO boxes were damaged and the vehicle projected into the post office lobby. Firefighters stabilized the vehicle and also evaluated the building for structural integrity.
The Deschutes County Sheriff Office is currently on scene and investigating. La Pine Postal authorities are intending to keep the front counter open in a different area of the building, but access to the parking lot and PO boxes may be blocked.