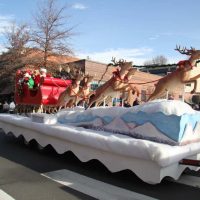 The 2019 Bend Christmas Parade kicks off on Saturday December 7, 2019 @ 12noon, in downtown Bend.
This year, KQAK/The Peak 104.1/Horizon Broadcasting Group, which owns and operates MyCentralOregon.com, will be in this year's parade.
Come meet Dave Clemens, Austin Reed, Kendall, Nick Newport, Sergio and other Horizon team members/DJ's.
For more information on street closures, click on this link.
We all hope to see you this Saturday!